Andy's Adventures is a series of 14 minute television programs starring Andy Day, made by BBC Natural History and aired on CBeebies. Each series is slightly different but follows the same format and name "Andy's [ ] Adventures". Three series have been produced with a fourth currently airing in 2018.
Series
Name
Description
Air date
Episodes

Andy's Wild Adventures
Andy works at the fictional Pickles Zoo with Kip the Cat and Mr Pickles his boss. He takes care of the Animals there. Whenever Andy needs something to take care of the zoo's animals, he and Kip use the Kip Mobile to fly around the world to collect it and they encounter many animals in the wild.

There were two series released, one near the start of 2012 and the other later that year.

Started 13 February 2012
40
Finished 16 August 2012

Andy's Dinosaur Adventures
Andy now works at the fictional National Museum in the Dinosaur Gallery with Hatty. After part of an exhibit is damaged or need replacing, Andy travels back in time to age of Dinosaurs using the Old Museum Clock to find a replacement piece. He encounters many Dinosaurs and other creatures that lived at the same time.
Started 17 February 2014
20
Finished 28 March 2014

Andy's Prehistoric Adventures
Following the same story as ADA, Andy is now the head of the (renamed) Prehistoric Gallery at the National Museum as Hatty no longer works there, but Andy has a new assistant Jen and a new boss Mrs Pickles and the Janitor. Andy continues to use the Old Museum Clock to find a replacement piece for damaged exhibits but he now travels back to find other prehistoric creatures from different eras, not just Dinosaurs.
Started 8 February 2016
25
Finished 17 June 2016

Andy's Safari Adventures
Currently airing. Andy now works at a Safari Park run by Mr. Hammond and presumably goes on Safari adventures to collect items. Jen will also appear.
Currently airing. Started 12 February 2018
40
Other media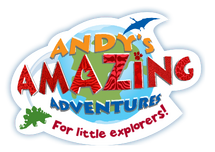 Andy's Amazing Adventures is a children's magazine released monthly, starting in February 2016. It features content based of Andy's Wild Adventures, Dinosaur Adventures and Prehistoric Adventures. 27 issues have been released as of March 2018 with a retail price of £2.75.
Others
Several songs and games based on the shows have been released. Complete series releases of each series are available on DVD as well as assorted DVDs with a selection of episodes.