The National Museum is a museum of natural history in England that exhibits a vast range of specimens from various segments of natural history. Unknown to everyone except Andy, the Old Museum Clock in the entrance hall is really a time travel device.
Prehistoric Gallery
Edit
The Prehistoric Gallery (also known as the Dinosaur Gallery) is the setting of Andy's Dinosaur Adventures and Andy's Prehistoric Adventures. Every day/week a new display of extinct creatures, ranging from Dinosaurs to Ice Aged creatures, is set up using the display wall and/or the Holographic Display.
Other Displays
Edit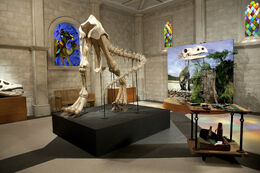 Bird Gallery
Diplodocus skeleton
Megatherium skeleton
Charles Darwin stature
Giant sequoias tree trunk
Prehistoric Gallery
Edit
The interior of the Museum is filmed in the London Natural History Museum but the Prehistoric Gallery was a set designed to look the same as the NHM.